Special Newsletter: COVID-19
LATINNOxCOVID-19
¿Cuál ha sido la respuesta de la ciudadanía de
América Latina a la actual pandemia?
En LATINNO nos propusimos responder esta pregunta y realizamos un mapeo exhaustivo de las iniciativas ciudadanas y participativas implementadas en 18 países de América Latina desde que la pandemia se desatara.

#LATINNOxCOVID19 es una compilación de proyectos, campañas e ideas llevadas adelante por la ciudadanía, organizaciones de sociedad civil, cooperación internacional, sector privado y gobierno, que tienen como objetivo articular esfuerzos para responder a los retos que presenta la pandemia. Éstos buscan responder las siguientes preguntas: ¿cómo combatir los efectos de la pandemia de forma efectiva?, ¿cómo recopilar, publicar y transparentar datos relativos a COVID-19 y a la respuesta institucional?, ¿cómo facilitar el acceso a bienes y servicios especialmente para poblaciones en situación de vulnerabilidad?, ¿cómo dotar de herramientas a los ciudadanos y gobiernos para prepararnos en la vida post-pandemia?
Haz click aquí y visita #LATINNOxCOVID19
¿Qué clase de iniciativas encontrarás en el listado?
Hemos preparado un listado actualizado de iniciativas por cada uno de los países de la región, y aquellas con un alcance transnacional, información sobre cómo participar, y links de contacto para conectarse con sus creadores o sumarse en su implementación. Estas son algunas de las iniciativas que encontrarás en #LATINNOxCOVID19: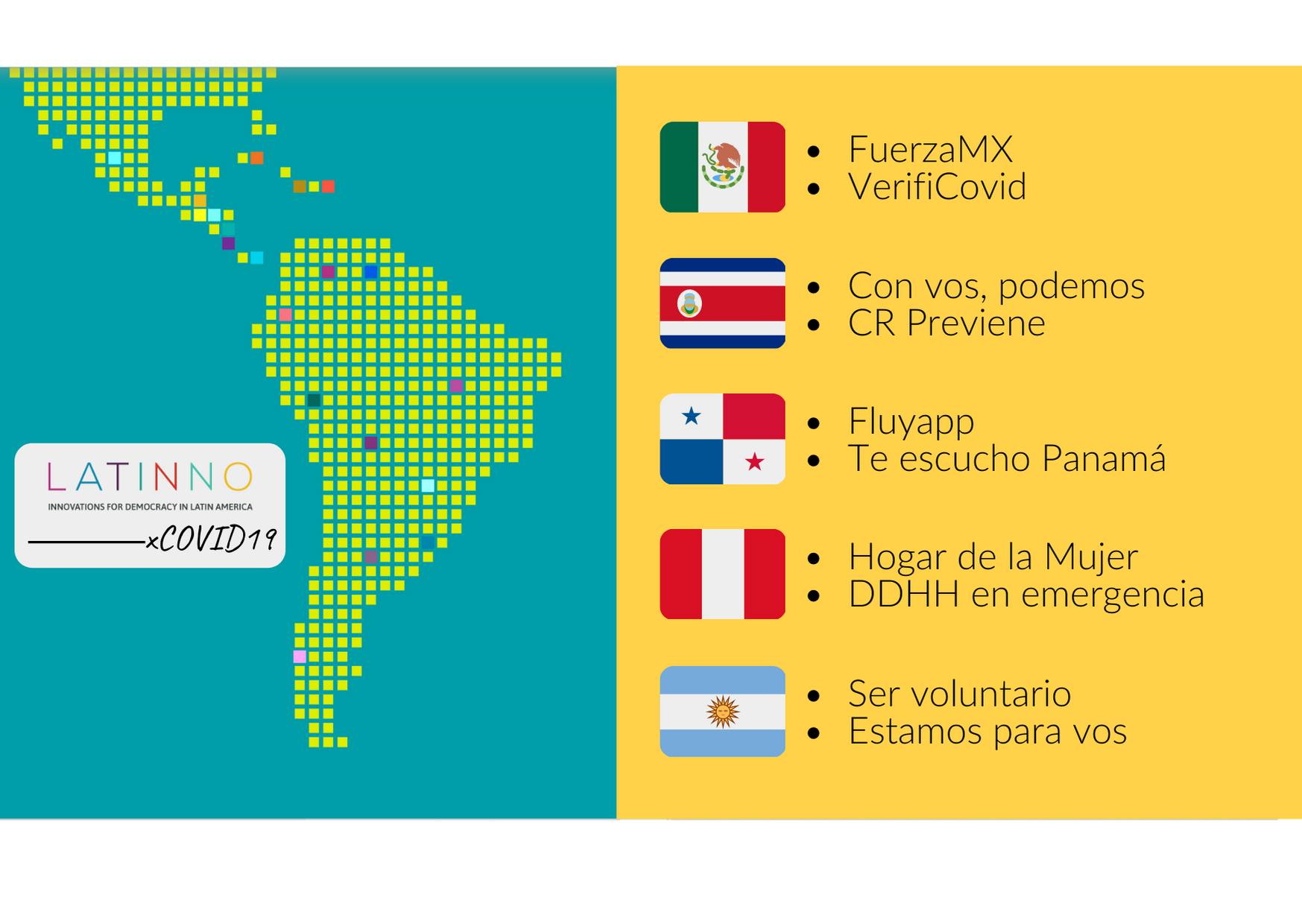 Desde LATINNO esperamos que la compilación de este listado de más de 300 iniciativas sirva para visualizar los esfuerzos de las y los ciudadanos latinoamericanos por combatir los efectos de la pandemia de COVID-19, mitigar su impacto en la región y aunar esfuerzos para contribuir a la reconstrucción social post-pandemia.
English
Our LATINNO Team has joined efforts to map and identify citizen and participatory initiatives that seek to combat the effects of the COVID-19 pandemic in the region. How have citizens reacted to the pandemic? Which initiatives have taken place and how do they seek to respond to the limitations?

We have listed over 300 initiatives in a new website, with the goal of highlighting the multiplicity of responses in all 18 countries and at the transnational level. With the aim of making this information available as soon as possible and for the populations and communities involved in them, we have first published this mapping in Spanish. We hope to soon make this information available in English, too - and welcome any volunteer support in translating the material!
Click here and visit #LATINNOxCOVID19